Map & FAQ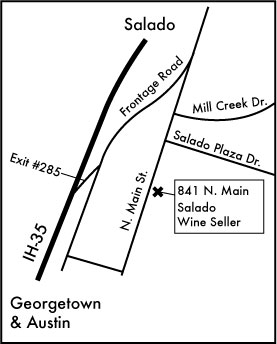 Are children allowed? Yes!  There will be plenty of walking, so strollers for young'uns is advised.
Can I bring my dog?  Sure!  Please keep the dogs on a leash though. One year we had a parrot as well, as well as one of those cute little hedgehogs, they're definitely allowed.  No cats though–we already have one.
Food?  We are expecting three food vendors this year, "Hecho en Queso", "Fire Street Pizza": and our residential taco truck, "Sylvia's Tacos".  You'll also find food at restaurants throughout town.  For a list, check out http://salado.com/dine.cfm
Will the wine be for sale?  YES, bring money!  We take cash, AMEX, Visa, MasterCard, and Discover.
ADVANCE ticket sales? Yes, we did it in 2017 and plan to offer starting JAN 2018!  you can buy your tickets ahead of time on eventbrite